January 10, 2021
Hike 2 of 52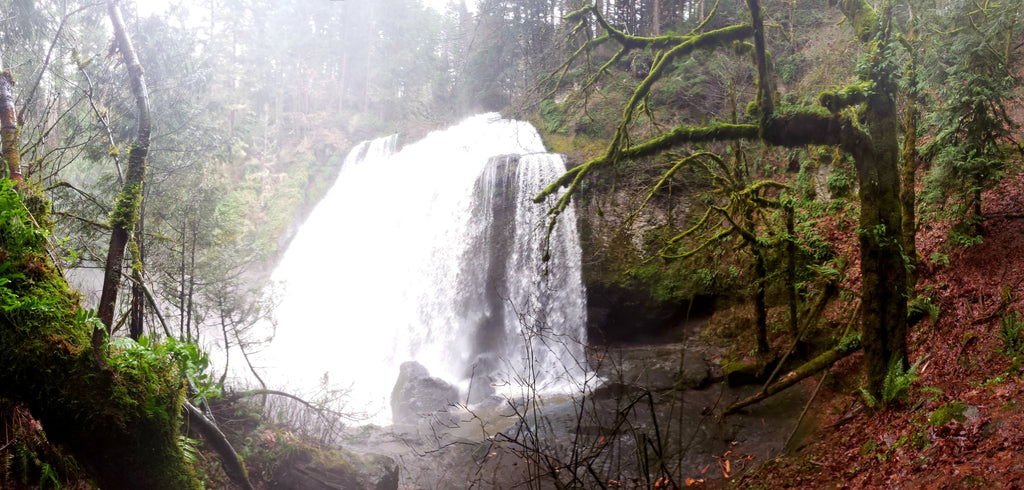 Little Mashel Falls Trail
Territory of the Nisqually People, currently managed by Pack Forest.
4.7 to 5 miles depending on hiker's choice.
Little Mashel Falls in Eatonville(https://www.alltrails.com/trail/us/washington/little-mashel-falls-trail-via-bud-blancher-trail) is a frequently hiked trail of ours for many reasons. The gorgeous waterfalls are one, but it is surrounded by incredible forests while boasting a wild variety of fungal/plant life that allows my endlessly curious toddler to explore for hours. 
We like to start our hike at the Bud Blancher trailhead. There is always plenty of parking, unlike the official trailhead, and it is only .5 further. It also has a parking lot near a major highway so I don't worry as much about the car being broken into while we're hiking.  
The trail itself starts out gravel and boasts two cute wooden bridges that cross the river. There are benches to sit and enjoy the gorgeous views at these sites and a nice place to stop on the way back if you need a break. My toddler is always endlessly fascinated by the metal poles at the two bridges, too. So I guess that's a bonus (ha). 
You'll be passing private properties as you continue down Bud Blancher. Stay on the gravel path. There will be a cross roads, but just look directly in front of you and proceed to the yellow metal post across the street to continue on the correct course. There will be a wooden fence to your right and occasionally goats and horses. 
As you get closer to the trail head you'll pass a rocky hilltop. This is our favorite location to stop and "Take a rest". At this point in our hike, we'd had one diaper change and 2 tantrums. While it was a great day for hiking, it was not a great day for Bear! I find these rest breaks entirely necessary when hiking with little people. So pack plenty of snacks and rest often is my suggestion, but know that your kiddo is going to lose it on the trail occasionally. That's just part of parenting a toddler. 
Shortly after there will be a trailhead sign on the left. This is where Bear says we, "Enter the jungle". You'll be hiking through very muddy conditions in the winter so be prepared with a shoe brush or an extra pair of shoes for the ride home. There's a steady incline to the falls, but it's not bad. There is a tree down on a portion of the trail, but it's easy to climb over it. 
Trail heads for lower, middle, and upper falls are clearly marked on your left. The easiest and safest for littles to access in my opinion is middle falls. In winter, that's the falls we frequent most often, we don't go to upper falls as portions of the trail are washed out, and lower falls has too many steep/slippery inclines for toddlers. We'll hit all three in the summer when it's dry and the waterfalls aren't as intense. 
The middle falls trail is a slight descent into a lovely forested area that is always covered up with mushrooms.  This is the toddler's favorite location to get down and inspect with his camera or binoculars. 
You should be hearing the roar of the falls at this point and if you're traveling in the winter, you might begin to feel the spray. Immediately following a few rainy days expect it to be really popping off. Normally you can walk behind middle falls, but I would advise against it on post rain days.
To give you an idea of the vast difference here is the lower falls in July:
Middle Falls at the end of October:
Middle Falls in December:
Then we have the falls now, in January.  we didn't even go down on the rocks to get close to it because the spray was so intense. We also did not try to go behind the falls as it seemed dangerous:
This is a great hike and very high traffic so you can expect to pass a lot of other hikers. I'd definitely recommend it as a starter trail for hikers with little experience. It's great for kids and just the right length to wear them out.  Here's my little guy napping on the way out. Happy hiking! 
This trail is located on the ancestral lands of the Nisqually People and currently managed by Packwood Forest. As my donation for this hike, I chose to donate to indigenous bridges. Indigenous bridges is accepting donations focused on preserving indigenous culture. Their 2020-2021 campaign would include a youth delegation from the Nisqually Tribe of Olympia, WA. Donations can be made here: https://www.indigenousbridges.org/fundraise.php .