January 20, 2021
Hike 3 and 4: Twin Falls Trail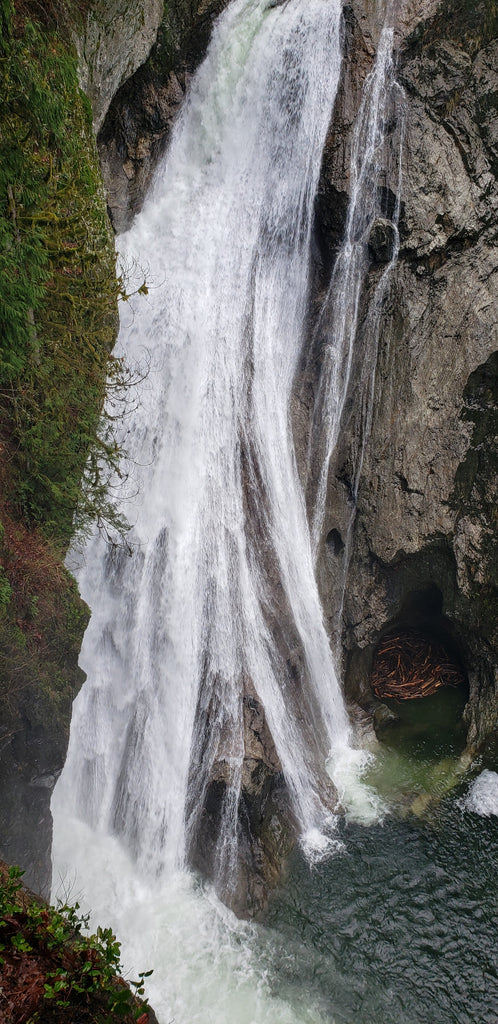 Ancestral Lands of the Coast Salish
Twin Falls Trail is in Olallie State Park so within an hour drive of Tacoma and 35 minutes from Seattle which makes it a often visited location for a lot of people, so we suggest going during the week if you can. You will need a discovery pass.  Here's the link to All Trails: https://www.alltrails.com/trail/us/washington/twin-falls-trail
But, on the other end of that, this trail is just gorgeous and awesome for kids. Our little loved it so much we went twice in the same week. It rained on us both times and he still had a blast. So it is definitely a kid pleaser.
It starts at a nice sized lot for a state park with 3 designated bathrooms (woohoo!). A lot of reviews on All Trails refer to the wooded areas as "ugly" or "boring", but we found them pretty magical. And there were so many mushrooms, cool plants, and logs to see along the way, so I really think it depends on what you and your family enjoy doing on hikes. If you're a mushroom and moss seeker, full steam ahead!
The first viewpoint of the falls is pretty close to the trailhead and easily accessible.  There are two benches at the top. If you have toddlers/kids who need extra support, you may want to have them in your arms here, as there's a steep drop directly in front of the viewing area. Here's how my kiddo felt about that decision:
Continuing on will take you over a very muddy area and over a bridge. And then on your right you'll see a staircase down to view the lower falls. Do not skip this part. It was incredible, definitely the kiddo's favorite part.
Once you go back up and continue down the trail it doesn't take long to get to the bridge. Which boasts gorgeous views in both directions. This is where many people choose to turn around, but we actually really enjoyed continuing to the end. 
If you choose to continue on, there is another view of the upper falls if you continue up the trail just a bit, then past that incredible forest views (like the ones below) and loads of mushrooms. 
So if you're looking for a vista, you won't find it, but if you love searching in greenery for interesting plants and mushrooms you'll love the last bit of this trail. Although, you will deal with increased road noise and at places you can see the road through the trees. All in all a great trail for kids. Ours gives it a 10, but do prepare for mud and we suggest a rain suit. 
This trail is on the ancestral lands of the Coast Salish and since that encompasses quite a few tribes, my donation for this hike will be to Seattle Indian Health Board, a community health center that specializes in the care of Native People. If you would also like to make a donation to an organization that assists the people whose land you are occupying, donations can be made here: https://www.sihb.org/about/get-involved/donate-to-seattle-indian-health-board/
In case you're curious about the park's management plan, I've linked it below. 
Olallie State Park Management Plan: https://parks.state.wa.us/DocumentCenter/View/1527/Olallie-State-Park-Management-Plan-PDF?bidId=