February 04, 2021
Hike 6: Nisqually Estuary Boardwalk and Twin Barns Trail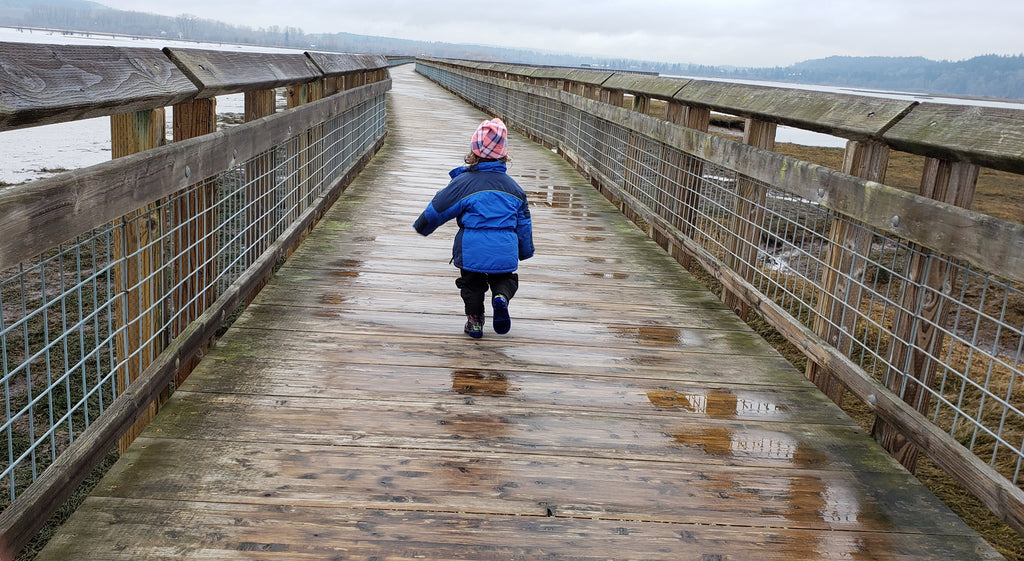 Ancestral Lands of the Nisqually People
$3 Parking Fee or America the Beautiful Pass
The 4.5 mile flat, stroller friendly "hike" on the Nisqually Wildlife Preserve is one we frequent pretty often. It's easily accessible, easy for the kiddo to do independently, and filled with wildlife. For example we saw multiple types of ducks, nesting eagles, seals, and a Northern Harrier on our short trip. It just never disappoints. It can get very busy, so, as usual, I advise traveling there on a weekday if you can. 
The entrance to the trail begins from the parking lot at a boardwalk, but if you'd like to social distance, follow the parking lot around on the left and there will be a trail that opens out to a gravel road. This runs parallel to the designated boardwalk, but will still take you to the boardwalk that goes out onto the sound. There are currently a nesting pair of eagles next to the barn here, so a great place to stop and take some photos. If you look closely, you can see an eagle silhouette and nest in this photo:
When you get to the end of the boardwalk or road (whichever choice you've made) turn left. The gravel road will continue out to the main boardwalk. I timed our trip so that we arrived near high tide so we would see lots of water fowl up close, but once the tide starts to recede it turns to mud flats pretty quickly. I advise checking the tide reports to see when is the best time to go. 
High Tide:
As the tide goes out: 
Once you get to the boardwalk you've reached the main portion of the "hike". Be sure to stop and look over the sides to check out the water, water fowl, and plant life that's existing below you. My kiddo spent a LONG time observing ducks eating and how parts of the estuary were deep while others were shallow. 
Word to the wise, the last 700 or so feet of the boardwalk are closed during hunting season, but will open up on February 6th. We did not know this and I hadn't discussed it with the kid, so there were some understandable unhappy feelings.
Once you've reached this point, you can turn around and head back to the car. That's it! Probably one of the simplest/easiest hikes on my list, but well worth it for all the wildlife you'll see. I strongly recommend this one for rainy days as it has great puddle jumping areas in the gravel. Happy hiking! 
For this hike, I chose to donate to the Nisqually River Council, a non-profit that acts as an education and advocacy organization that promotes collaboration, trust and communication between community members, agency representatives, and non-profit organizations, this includes representation from the Nisqually Indian Tribe. The organization is guided by a stewardship plan found here: https://nisquallyriver.org/blog/2016/05/04/executive-directors-corner-the-nisqually-watershed-stewardship-plan/
If you would also like to donate to this non-profit, you can donate here: https://nisquallyriver.org/support/
History including the work of the Nisqually Tribe and Billy Frank Jr. to save the delta: https://www.historylink.org/File/20671
History of the Nisqually Refuge according to National Fish and Wildlife: https://bit.ly/3cIv98g